Meticulously Crafted Sound For Your Listening Lifestyle
The R-N1000A delivers total enjoyment of your music content with full-fledged Hi-Fi sound, drawing on the technologies of Yamaha's top-end model. Featuring Yamaha's original YPAO™ sound field correction, high-capacity custom-made transformers, ultra-precise ESS DACs, and a host of other superior parts, the R-N1000A has everything necessary to produce high-quality sound to transform your usual living room into an extraordinary environment—where you can immerse yourself in the music and fully enjoy a space of pure sonic delight
Features…
110 watts per channel (8 ohms).
Authentic HiFi quality with Top-ART mechanical structure and top-quality audio parts
ESS SABRE ES9080Q Ultra DAC for superior S/N performance
YPAO™-R.S.C. (Reflected Sound Control) and precision EQ for ideal listening environment
HDMI ARC terminal for excellent TV sound
MusicCast lets you stream from your favorite music services
High-performance USB DAC function supports DSD 11.2 MHz native playback and 384 kHz playback
Original speaker terminals cut from pure brass for highly secure connection
Special phono input terminals to enjoy your vinyl record collection.
2+3 Extended 5 year warranty via product registration
True Sound
This is sound that only Yamaha can realise as the only audio brand in the world that handles everything from the moment a sound is created to the time it reaches the human ear. Simply close your eyes and feel the artist performing right there in front of you, and experience the profound sensation of being truly 'Closer to the Artist.'
Sound Image
The position of the artist and the instrument, and even the delicate nuances and very atmosphere of the performance space are stunningly reproduced just as they are. The resulting soundstage is so incredibly realistic, you'll feel as if you were watching the performance unfold right in front of you.
Yamaha Parametric Room Acoustic Optimizer (YPAO)
Environmental factors play an important role in the sonic signature of a room, and with any type of audio. Yamaha's own YPAO™ automatic calibration technique, refined over decades of use in Home Theatre products, has been optimised for the R-N1000A to deliver the ideal listening environment, as if you were in a professional audio listening room – without requiring any laborious manual setting adjustments. YPAO™ features precision EQ, which performs exceptionally high-precision equalization with accuracy of up to 192 kHz / 64-bit audio resolution. YPAO™ R.S.C. (Reflected Sound Control) works in tandem to actively control the important early reflection sounds, automatically adjusting and optimizing how the sound is heard in your room, depending on the materials of the walls and the speaker placement. Which means you can enjoy the profound sound and immersive feeling unique to Hi-Fi audio – right in your own living room.
High Precision, High Performance
The R-N1000A used the renowned SABRE ES9080Q 384 kHz / 32-bit DAC from ESS Technology to deliver superior signal to noise performance.
Low Impedance Concept
In order to thoroughly eliminate energy loss and degradation of the audio signal, the R-N1000A features thick wires for the ground connection, a critical feature that establishes the componentry as being truly premium Hi-Fi. In addition, a screw connection is adopted for the output from the power amplifier second in order to strengthen the ground, which is of upmost importance for audio quality. This all helps to give the R-N1000A increased signal-to-noise performance, making it possible to reproduce sound with full clarity.
Gold-Plated Terminals
Gold-plated terminals ensure a high quality connection that prevents signal loss. The R-N1000A have gold-plated speaker terminals and input terminals.
Full-Fledged Musical Experience From Your Smartphone
The R-N1000A is equipped with Yamaha's original MusicCast network system. It is compatible with a variety of streaming services such as Tidal Connect, Amazon Music HD and Spotify, letting you fully enjoy exceptionally high-quality sound unique to today's high-resolution and lossless sound sources, with complete fidelity. You can also use it to stream Apple Music with Airplay 2. And the MusicCast system lets you easily listen to music anywhere in your home by linking various MusicCast devices with just one app on your smart device.
Hi-Fi Quality For All Your Music Sources
From audio you've stored your PC or a network drive to vinyl records and TV—the R-N1000A handles everything, giving you superior sound and drawing out the full sonic splendor inherent in all your entertainment.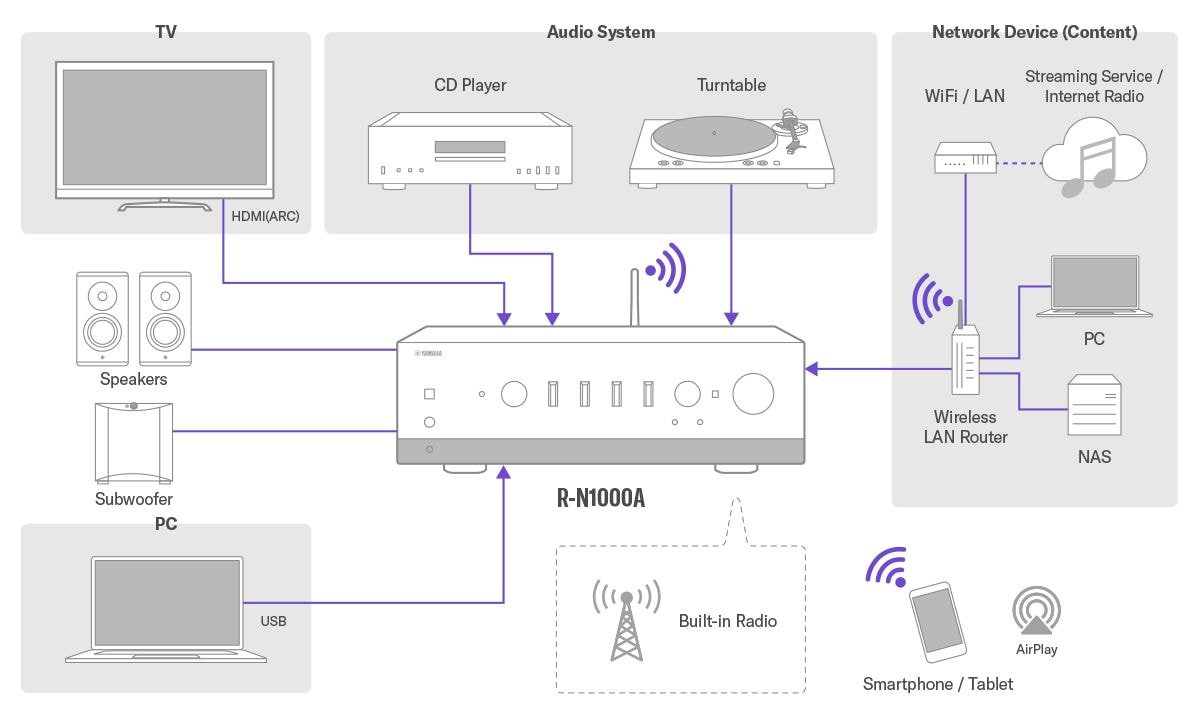 Specifications…
Output Power
Rated Output Power:   [20 Hz-20 kHz 0.07 % THD] 100 W+100 W (8 ohms) 120 W + 120 W (6 ohms)
High Dynamic Power/Channel (8/6/4/2 ohms):
140 / 170 / 220 / 290 W
Network
Wi-Fi:    YES
File Format:   MP3, WMA, MPEG-4 AAC, WAV, FLAC, AIFF, DSD
Bluetooth® :    Yes (SBC / AAC)
AirPlay Yes
Terminals
Input terminals:   Analog Audio: 4 (CD, PHONO, LINE 1, LINE 2),
Digital Audio: 3 (Optical 1, Optical 2, Coaxial),
USB DAC (Type B)
Output terminals:    Speaker :2 (4 terminals),
Subwoofer: yes
Headphone: yes
Others: Trigger out
Dimensions:

(W x H x D) 435 x 151 x 395 mm (without antenna)
435 x 232 x 395 mm (with antenna up)

Weight:   12.3 kg
Features
AirPlay 2:    YES
YPAO:     YES
MusicCast:     YES
DAB+ Radio Tuner:    YES
Check out the brochure for more information – Yamaha R-N1000A Brochure
Check out our first look unboxing video: